Connecting iCal Channels with Tokeet
In order for iCal connections to work with two-way synchronization, you will want to both import a calendar into Tokeet and export a Tokeet calendar into your connected channel.
Please note that the iCal connection wizard can simply be closed to continue the manual process below.
---
To Export an iCal URL from Tokeet:
Navigate to Channels > Add Channel
Select Flipkey, Homeway or another iCal channel
In the Export section, click "Add"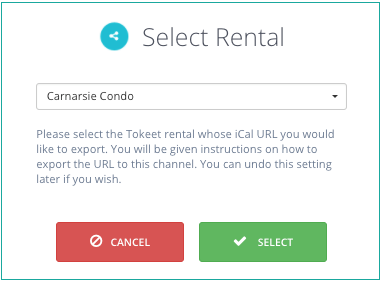 Select a Rental from which you are exporting the calendar
In the popup, scroll down and click "Activate Connection"
On the subsequent page, copy your Tokeet calendar URL and paste it in your channel
---
To Import an iCal URL into Tokeet:
Copy the iCal URL from the channel you want to import into Tokeet
In Tokeet, navigate to Channels > Add Channel
In the Import section, click "Add"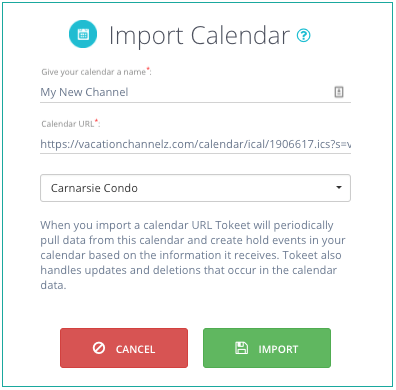 Give your calendar a name, paste iCal calendar URL, and associated Rental
Click "Import"
---
To troubleshoot a Stale iCal connection:
(Stale means there is data in Tokeet that was not imported by the iCal channel)
In Channels, Click on the Stale connection
Copy the URL field (all of it)
In Homeway or another connected channel, delete the Tokeet connection
In Homeway or another connected channel, re-import the Tokeet connection
---
As always, please
contact us
with questions any time.  We're happy to help.
---
---