Tokeet integration with ChargeAutomation
What is ChargeAutomation?
ChargeAutomation is an Online Check-in & Payment Automation tool.
It can be used to collect guest IDs, selfies, documents, and e-signature as well as to provide a customized guest portal & guidebooks.
Another great feature of ChargeAutomation is the ability to pre-authorize cards, collect deposits & payments, and upsell during pre-check-in.
Find out more about ChargeAutomation in our blog post.
---
This integration will allow you to easily:
✅ Collect Pre-Arrival Info (ID, Selfie, E-signature, T&C...etc)
✅ Payment Collection (Auto-collect Deposit, Balance, Cancelation Fee)
✅ Pre-Authorize Cards (Damage deposit hold)
✅ Upsell Pre-Checkin (Offer Upgrades, Services, Tours...etc)
✅ Guest Portal (Customized Web Portal, Guidebook, Upsell, Chat)
✅ 1-click Payments (Create & send links to pre-authorize or collect money)
✅ Risk & Fraud Protection (Avoid fraud-related chargebacks)
✅ 120+ Payment Gateways (Many options for guests to pay)
You will need to create a ChargeAutomation account to proceed with the integration.
After connecting your Tokeet and ChargeAutomation accounts, booking data will sync automatically. You will then be able to send online check-in links to your guests.
---
Why use ChargeAutomation with Tokeet?
Online check-in, guidebook, and chargeback protection are completely free of charge.
Easily automate guest payments for reservations, deposits, taxes, cleaning fees etc.
You can pre-authorize security deposit.
Validate credit cards.
Automate refunds to guests based on your cancellations and refund policy.
Upsell guests during online check-in, for items such as early check-ins, tours, meals, extra guests fees, extra beds, insurance, activities, etc.
Create payment links to collect money & share them via email, WhatsApp, SMS, or chat.
How much does ChargeAutomation cost?
ChargeAutomaion's standard price to Charge/Authorize a card is 0.15% of the transaction amount (e.g. 15 cents of $100 total) + $0.25 cents gateway fee.
ChargeAutomation will bill you at the end of the month based on your usage. There are no terms or minimum commitments, just pay as you go.
---
Connecting ChargeAutomation to Tokeet
Login to your ChargeAutomation account at chargeautomation.com.
Connect your payment gateway (e.g Stripe) and choose if you want to turn on the "Chargeback Protection" feature, then click "Continue".

On the PMS step, select Tokeet from the PMS list and click "Connect".

You will be redirected to the Tokeet login page, where you will enter your Tokeet credentials and log in.

Click "Continue"

You will then be redirected back to ChargeAutomation's site and you'll see that your Tokeet account is now connected with ChargeAutomation. Click on "Continue".

You will now be able to customize your guest experience & payment rules for your Booking Channels & your Properties. The final step is to activate your properties and you're done.
The rules will apply to new reservations once you go live. You also have the option to manually share the same rules to existing reservations.
---
How to disable Integration with Tokeet?
ChargeAutomation clients can disable the PMS functionality all at once by going to the following:
Settings > PMS Connection > Scroll to the bottom and you will see "Disable My Account"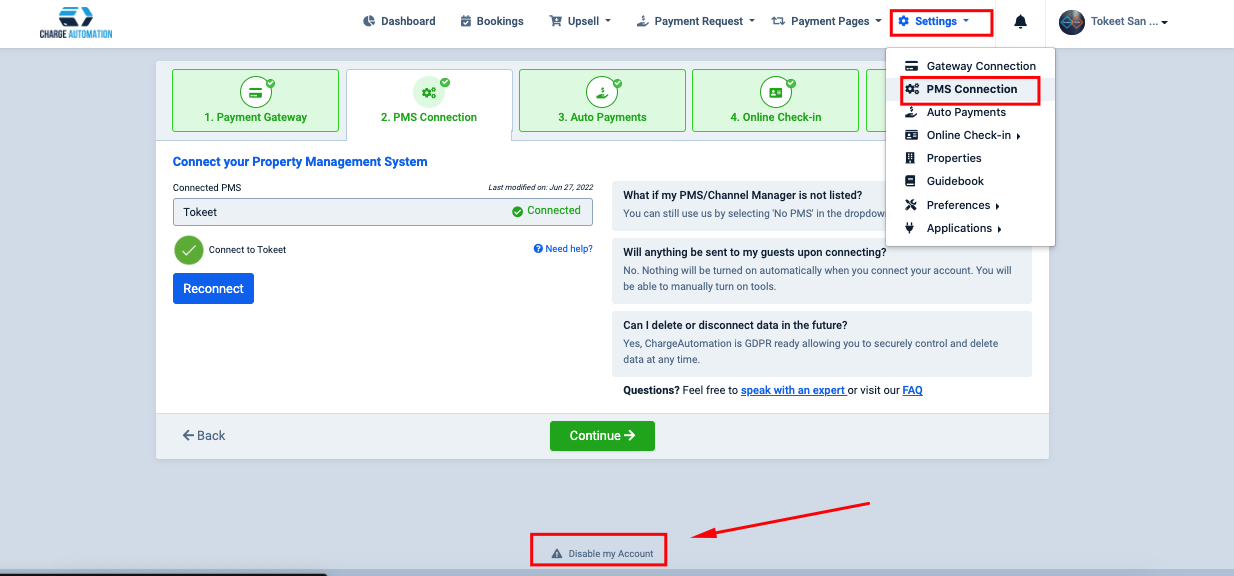 ---
---