Automata Triggers
A trigger is an instruction to Automata to perform a particular action when an event occurs. For example, triggers can be used to notify you, your staff and your guests via email or SMS when a new booking is received. Automata currently does not automatically send email when events occur, so we recommend setting up triggers in order to receive account notifications.
Triggers are extremely powerful, and are easy to create in Automata.  

Here, you can use filters to sort and search among existing triggers, as well as create and delete triggers. Click on a trigger in the table to open the trigger details overlay.
You can edit the columns in the table by clicking the custom column (three lines) icon in the column header.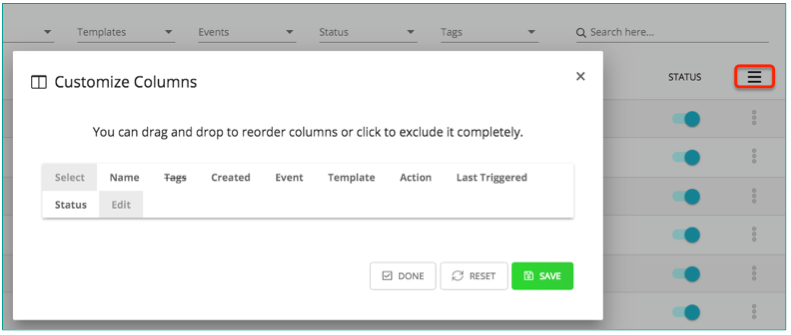 Click "New" to build a new trigger. (Read more here)
Click "Delete" to remove a selected trigger.
You can change the sort order of the table by clicking on any of the column names.

You can edit, duplicate and archive triggers, as well as toggle the status of the triggers. 
Click the "Status" toggle switch to change the status of the trigger between "Active" and "Paused" status. A "Paused" trigger will not fire.
Click the "Edit" button to edit, duplicate, pause, archive or delete your trigger. (Read more here)
You can adjust how many triggers are shown per page by changing the page settings at the foot of the table.

Note: Once a Trigger is created, it is important to be mindful of actions taken via the Tokeet dashboard as they may fire a trigger event each time. For example, repeatedly canceling and confirming a booking may send multiple email messages to a guest.
---
As always, please
contact us
with questions any time. We're happy to help.
---
---