Rate Types in Tokeet
With the launch of Tokeet Version 3 (TV3) you'll be introduced to some new features and concepts that may seem a little foreign at first. This article aims to provide you with all the knowledge necessary to take full advantage of our new Rates Calendar and some other very helpful features.
To access your rates multi-calendar simply select Rates at the top of your screen.

You can utilize our filter options, search the rental by name, or navigate via month and date just like you would on the multi-calendar showing your bookings and hold events.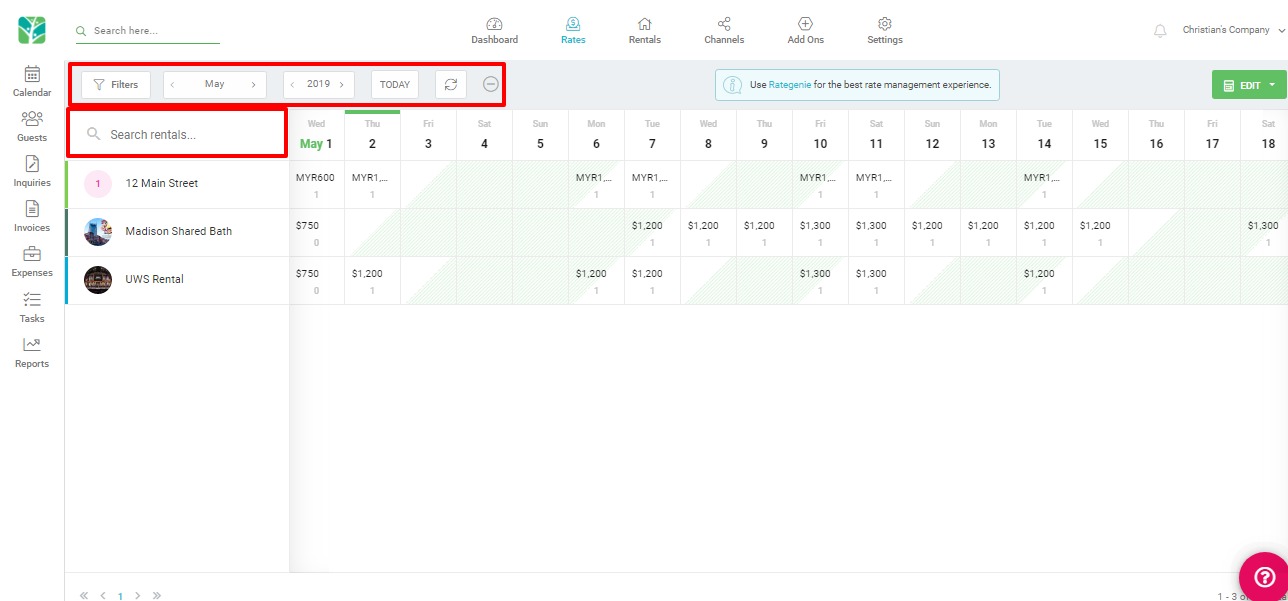 Clicking on any rental on the Rates Multi-calendar will present you with the rental rates overlay, which is specific to the rental you have selected.
There are 4 tabs on the rental rates overlay.
Calendar: This shows this rental's specific daily rates, and provides each rate category that is applicable to each day.
Rates Table: To get a close look at the rates which are applying use the Rates Table.
Rate Mappings: This section allows you to create rate mappings and push rates to your channels.
Settings: These are the base settings for your rental rates. These will apply when you have no Standard, Promotional, or Group Rates to apply to a date range.
Your Rates Multi-calendar will only show rates assigned to the default rate category. In order to take full advantage of this new feature, it is recommended that you create a default rate category. Pushing different rates to different channel websites no longer requires creating separate rate categories after the introduction of Channel Adjustments which we will cover later in this article.
Rate Types in Tokeet
Tokeet Version 3 now removes the headache of planning rate changes with the use of both Standard and Promotional rates. The following section will advise you of the changes to our rate types and introduce you to a very useful new rate type.
Standard Rates: Standard Rates are the only rate type you really need in TV3. Overlapping Standard rates are no longer an issue, as our system has been re-designed to do the work for you. When you create a Standard Rate that overlaps with another, Tokeet will automatically split the existing rate to make room for the new rate you've applied.

Promotional Rates: Promotional Rates are no longer necessary after the re-design. Though you will still see them translated from the old version of Tokeet, they will behave the same as a Standard Rate, and you will no longer be able to create new promotional rates. Just create a new Standard Rate and Tokeet will do the rest.
This is how promotional rates will show in your rates table:

Group Rates: Creating rates for multiple rentals at a time is now possible using the Group Rates feature. Group Rates will apply to as many rentals as you select. Since Standard rates will overwrite the existing Group Rates, you can make 1 Group Rate to apply to multiple rentals, and then create Standard Rates to overwrite the group rate.

Channel Adjustments
One of the most requested improvements over the years has now been realized in Tokeet Version 3. Why create a new rate for a different channel website, when you can simply specify how much to add or remove from your default rate? Our Channel Adjustments feature will allow you to do exactly that.
Specify a default rate which will show on your Rates Multi-Calendar. You can do this either with a Group Rate or a Standard Rate applied to each rental separately.
Choose Channel Adjustments from the Rates Calendar Edit Menu.

Click on "Add Channel Adjustment". Specify the Channel, the rentals you would like this applied to, the amount to adjust. Then hit Save.

If you navigate to your Rental Rates calendar you will now see this adjustment applied to the default rate for Booking.com. This means that your rate mappings can be set to push the "default" rate category to any channel. The adjustment will be calculated automatically, and a different rate will be pushed to the channel you've specified in the adjustment.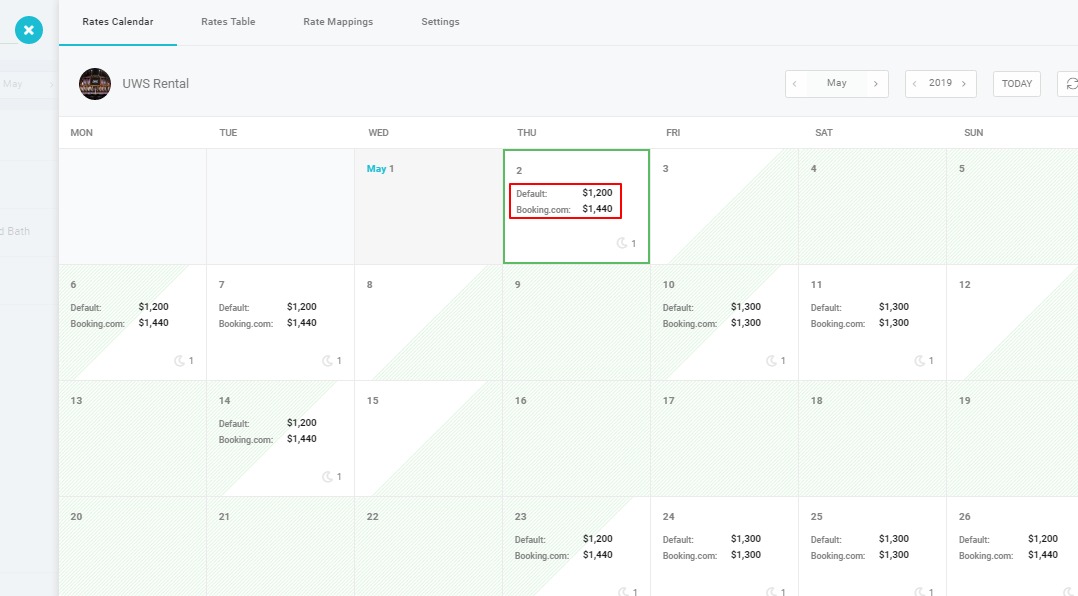 Final Tips
Remember that the default rate category is meant to apply to your rates multi-calendar. If you see numbers that don't seem familiar, you are most likely seeing the base rate being applied to the calendar. This does not mean that we are pushing that rate to the channels, but that there is no default rate specified to show in it's place.
If you don't already have a default rate in Tokeet. Remember that you can rename your rate categories simply by clicking into them in the Rates Table and renaming them there. Please be aware that changing the rate category name, may require you to re-create your rate mappings so that you can push your changes.
Once you have set up your rates in the manner suggested in this article, you will be free to simply drag on calendar dates in your Rates Multi-Calendar and make needed adjustments without navigating to the rates table.
We hope that you find an opportunity to take advantage of these new features to make Tokeet a simple solution to your needs. Thank you for your suggestions and feel free to contact us via live chat support if you have a question not answered in this article.
Note: Channel adjustments are applied to the "default" rate category. Once channel adjustments are added to a rental, "default" rates take priority and will be sent to the channels during the rate push.
---
---