How Do I Change My Password?
At Tokeet we take the security of your information and your clients' information very seriously. One of the simplest but most effective ways to keep your account secure is by using an effective password; one that can't be easily guessed. If you'd like to change your password at any time, you can do so with a quick and simple process from within your Tokeet Dashboard. Simply follow the directions below:
Click on the account drop-down menu and select "Change Password"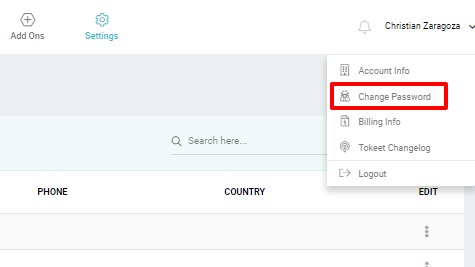 Enter your new password then confirm the password, and finally click on the Save button.
Your password has now been changed. Be sure to take the time to memorize your password and keep it secure so that only those authorized to access your Tokeet account can do so.
If you have forgotten your password you can use the forgot password link available on the login page of tokeet.com
---
If you have any further questions please search our help center or email us at
support@tokeet.com
and we'll be more than happy to help.
---
---