Vrbo FAQ
The Vrbo API connection is the newest and one of the most anticipated channel connections released by Tokeet to date. With the transition from iCal to API connection for VRBO, here are some of the most frequently asked questions:  
How will guest payments be managed on the VRBO channel?
Property Managers are entirely responsible for billing their guests. This means you would be required to have a payment gateway added to Tokeet.

Stripe Payment Processor
Would I be able to continue to manage my VRBO listings from the channel's dashboard?
Once connected via VRBO's official API, your channel manager (Tokeet) dashboard must be used primarily. This means, you can only create rentals/listings via the Channel Manager, you are expected to message VRBO guests from Tokeet, you must make all booking changes via the channel manager.
How can I edit guest requirements or restrictions for potential guests booking my property?
When connecting using the API, these settings would be shown on Tokeet and can be modified and pushed over to VRBO.
Is it possible to adjust my nightly rates or extra fees on VRBO? 
As with any API channel connection, you are expected to add or edit nightly rates for your listings via the channel management system (Tokeet).
Having a guest threshold for fees is valid when adding an additional guest fee only. Adding this for any other fee i.e cleaning fees; will result in an error pushing these fees to the channel. For this to be pushed successfully, remove the threshold count from all fees except the additional guest fee.
---
 Important to Note:
Support, Help, Tips & Tricks 
Remember,  please do not use any parts of the Vrbo dashboard that pertain to Inbox, Calendar, Reservations, Rates, Booking Requests or Payments. These areas do not have live connections to our software and will cause incorrect data to be sent to guests.
You'll see that Vrbo's Discovery Hub has a wealth of information on how best to manage your listings.  It can be accessed from any page in your HomeAway dashboard by clicking Help in the top right corner and selecting from the dropdown.  There, you can find tips for making your rental more bookable and successful, as well as news and upcoming events.
As a reminder, it's important that you abide by their marketplace policies found here.
Getting Started
 To view your listings and listing numbers, when you log in to your Vrbo dashboard select 'See all properties'. The top number is the Vrbo/HomeAway listing ID.  The bottom number is your software listing ID.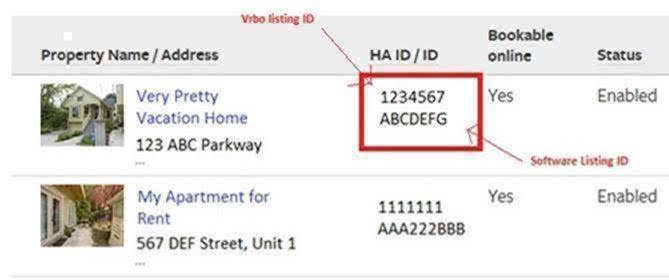 Tabs and information you need to consider on the main page:
All - This tab includes a list of all your listings whether they are subscription or pay-per-booking, live or not live.  You can filter by the Vrbo ID, software ID, subscription Level, and/or listing status.  Note that you can also export this information to an Excel file by selecting the "Export to CSV" arrow button.
Incomplete - this tab will contain listings that have not gone live due to missing information. Please complete the information in your software. As you can see here, Vrbo will specify what information is missing.
Pay Per Booking – these are your commission-based listings.  Here you will see the commission rate being charged. 
Managing Content:
With your listings connected via the API, the listing content will be updated daily with the Tokeet/Vrbo sync. Remember calendars are an exception and that they will be updated hourly and every time you receive or create a new booking. It is important to remember that if you update your calendars you need to ensure you have rates provided for those dates. Select all amenities within Tokeet that your property offers and understand how these map over to Vrbo. 
 Managing Bookings: Please remember to manage your listings and bookings from your Tokeet account. When a guest goes to book your property, they will enter their credit card information on Vrbo.  That information will then be passed to your connected payment processor in Tokeet (Stripe) for you to take the guest payment. In the event of a cancellation, you'll need to refund the guest directly too. Once you've cancelled the reservation the API between Tokeet and Vrbo will let the channel know to cancel the guest service fee. Tokeet will also inform Vrbo of any changes to bookings, such as dates or the duration of a stay.  
If you have Instant Booking enabled, bookings coming from Vrbo will automatically be confirmed. If you did not have Instant Booking enabled, you would receive a booking request that will need to be confirmed or rejected in Tokeet.
When booking through one of our Vrbo websites, the guest will have to agree to your cancellation policy and rental agreement. Please double-check these contain the correct information.
Managing Inquiries: 
When you receive a new inquiry or the guest asks a question, Vrbo will send you an email notification to your personal email inbox or Tokeet.  In Tokeet with our centralized inbox/inquiries section, you will want to answer guest inquiries within our platform.  If you are using a 3rd party lead management system, you will want to respond to all guest inquiries from there.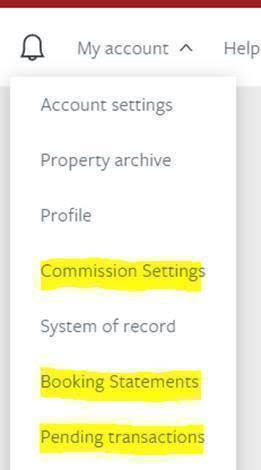 If neither of the above scenarios applies, you can respond to inquiries directly from the Vrbo dashboard but it's generally easier to reply directly to the email in your personal mail box.  To change the contact email where Vrbo guest inquiry notifications are sent, please select the property in Vrbo, click on Property > Edit Property > Contacts.   Click the Use this Unique Email option, and enter the email you'd like to utilize for guest inquiries. 
Commission Settings – here you can update the credit card that is charged your booking commission        
Booking Statements – these will be emailed to you monthly but you can access them from your Vrbo dashboard as well. Navigate to your name in the upper right-hand corner  > Booking Statements.  You can download these statements in a pdf or CSV format.
Pending Transactions – here you will see all of the upcoming charges that will be placed on your card within the next month. 
Please review the
VRBO listing activation
help guide to see the listing requirements to get connected via the official API.
---
Let us know if you have any further questions by contacting us at support@tokeet.com.
---
---